A gown fit for a bombshell! Sofia Vergara told People that she didn't want to "look like a virgin" on her wedding day to Joe Manganiello, and the actress certainly found a way to go sexy in a custom Zuhair Murad Couture design.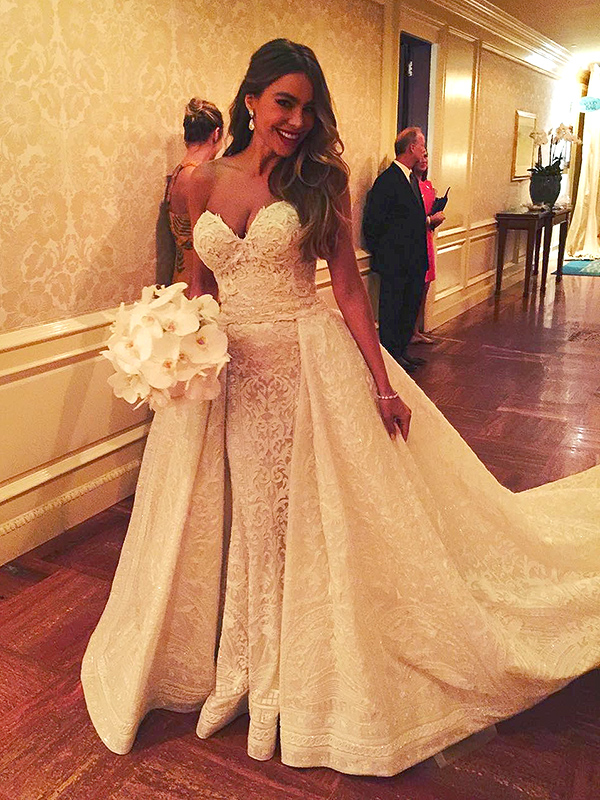 Courtesy Sofia Vergara
The Modern Family star, 43, married Maganiello, 38, on Sunday in Palm Beach, Florida, wearing a white strapless silk-tulle dress with a sweetheart neckline and hand-embroidered 3D embellishments on the bodice. A pearl beaded belt highlighted her waist, and a huge detachable skirt brought the drama. She finished her sparkly look with Lorraine Schwartz diamond earrings to the tune of 55 carats, plus more diamonds by the designer in her hair and on her wrist.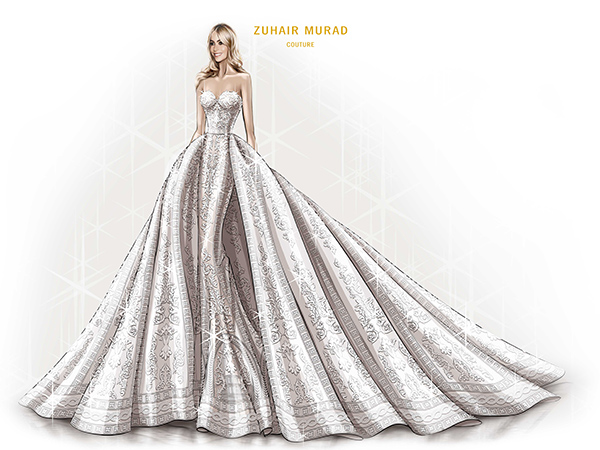 Courtesy of Zuhair Murad
Vergara worked closely with Zuhair Murad — the designer behind some of her most famous red carpet moments including the green sequin mermaid-style design she wore to the 2012 Emmys (which famously ripped!) — on the one-of-a-kind look.
"I was delighted to have the opportunity to collaborate with Sofia on her dream wedding gown," the designer tells PEOPLE exclusively. "I wanted Sofia to look phenomenal on her wedding day, showing off her hourglass physique and enhancing her famous curves. She expressly said that she wanted to look sexy, so I created a design that blended soft sensuality from the transparencies of tulle with the ornate glamour of ornamented embroideries and mini pearls."
The gown is covered in more than 11 pounds of sequins and 6 pounds of pearls thanks to all the intricate beading, and 32 people worked around the clock to complete the design, which took a total of 1,657 hours.
Vergara shared her bridal vision with People in September, explaining that she wasn't going for a cookie-cutter bridal look. (Mission accomplished!)
"Personally, I know that I don't like the natural look that some brides do. I'm 43, I don't really need to look like a virgin getting married," she shared. "I want to look sexy. I want to look great. I want to look good and [wear] something that I know is going to look good in pictures."
She also eschewed tradition by skipping the veil.
"I already got married before," she shared. "I think I'm past that virgin look."
And of course she kept her hair down for the affair — a hairstyle she plans to for the next 20 years.
"I think women once they hit 40, they shouldn't put their hair up again until they're 60." she said. "I think in your twenties and thirties if you put it up you look great, once you're 40 you age yourself putting your hair up."
What do you think of her lace wedding dress? Sound off below.